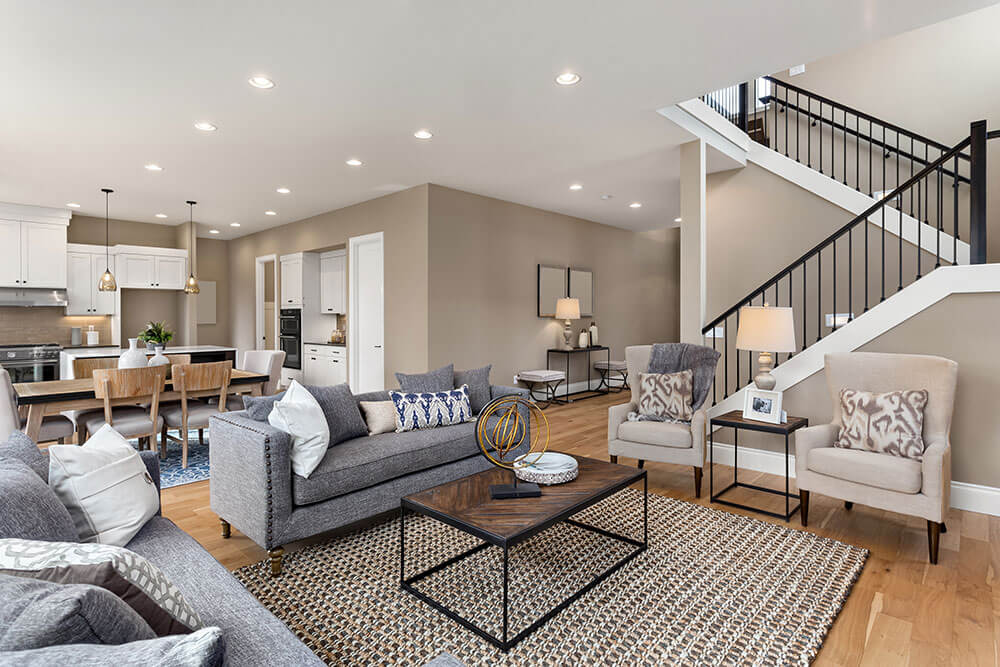 Interior Painting Professionals in Boise
If you need interior painting in multiple rooms, home interior painting can be a pretty big task. Fortunately for you, our painters can make the inside of your home look fantastic. You just have to pick out the colors! At Boise Home Painting, every interior paint job includes handling all of the prep work for you including minor repairs, cleaning, priming, moving the furniture, and more. Let us paint your walls, cabinets, door frames, or any other large-scale interior paint job at your home.
We Do Interior House Painting in Boise Right
When hiring a painting company to paint the interior of your home, you want someone with a lot of experience and we've got it. Part of that experience means treating you and your home with the utmost care and respect. We go the extra mile to make your home look the way you want and provide you with a great experience throughout the whole process. Our services go beyond just walls, including:
Walls and Ceilings
Doors and Windows
Baseboard, Trim and Chair Rail & Crown Moulding
Mantels
Cabinets and Shelving
Paneling and Wainscoting
Our interior painting services even include repairs like loose baseboards, loose nails, cracks, patchwork, and more. Even tricky things like wainscoting or interior stucco are no match for us!
House Painting Color Consultation
Hiring a painting company that can make the interior of your house look nice is important. But just as important is to find an interior painting contractor in Boise who can help you choose the right colors. Our painters have decades of experience in interior house painting in the Boise area. That means that if you don't know the exact colors you want, we'll help you choose the colors that match other parts of your home like the kitchen cabinets.
For example, if you want regular paint colors like white or blue, but you aren't sure about the exact hue, we'll give you our recommendations. It's all based on what you want it to look like. But it doesn't just go for muted or traditional colors. If you want us to paint the interior of your house light pink or bright yellow, we'll help you pick the best color. Yellow can be an exciting color but few people want their interior walls to be mustard. We want to help you pick the right colors so that you'll be in love with your interior walls.
Areas We Serve
We don't just serve the city of Boise. We also paint the interiors of homes in the following parts of the Treasure Valley:
A Local Painting Contractor
As you can see, we're a local painting company. Locally owned and locally operated. We live here in the heart of Boise and love the area. All of the paint we use is from your local Sherwin Williams in Boise. Plus, our owner, Chris Jordan, comes from a long line of painters. His father owns a painting company and so do his grandparents. Painting is in our blood. It's what we do.
Located near the Boise mall, our family-owned painting company treats every customer like one of our family members. That means that every interior paint job we do, we treat it like it's for our mother. We do a five-star job so that you will love spending time in your beautifully painted home. Get your free estimate today and see what we can do for you.
Boise Interior Painting 
When you're searching for a painting contractor that can deliver professional results at an affordable price, look no further than Boise Home Painting. Whether you're remodeling a single room or hoping to refresh all your interior walls, you deserve to enjoy high-quality results. Our technicians provide excellent service that ends with superior and meticulous results. 
Boise Interior House Painting 
Our team provides a range of interior painting in Boise, ID, resulting in a seamless and exceptional finished product. Attempting to paint the interior of your home on your own can be a lot of work. Leave the prep work, painting, and clean-up to the professionals who are trained to make every line straight and every stroke perfect. 
Boise Interior Commercial Painting 
At Boise Home Painting, we don't just paint homes. We have years of experience with interior commercial painting as well. This includes retail painting, industrial facilities, condos, apartment painting, schools, and more. 
Cabinet Painting 
Your cabinets are the focal point of your kitchen. This means it's important to keep them looking in tip-top shape. Cabinets are touched dozens of times a day and over time they can appear worn and run down. At Boise Home Painting we know how to revive your cabinets with the perfect color, stain, and finish to keep them looking their best. 
Free Estimate 
When working with Boise Home Painting, you'll get the full-service experience for your interior projects. We start with a completely free estimate. We'll discuss what you're looking for concerning your interior walls while going over ideas and solutions to create your vision. When we give you a quote, we want it to be as detailed as possible. Once you approve the quote, you can start choosing colors. 
Color Consultation 
With so many paint colors to choose from, it can be extremely overwhelming to choose the right one for your interior project. On top of choosing the perfect color, you'll also need to decide which finish will be the best fit for your interior. Our skilled team of experts will help you pick the color that embodies the style of your home along with a finish that will protect your paint. 
Why Choose Boise Home Painting? 
There are several reasons people throughout the entire Treasure Valley choose to hire Boise Home Painting over other painting contractors. 
Our team will communicate with you through every step of the process. From your consultation to the day your project is finished, we'll keep you updated and clued in all along the way. 

You'll also get to work directly with the owner of Boise Home Painting, Chris Jordan, who will personally ensure your job is done to your liking. 

You can count on our team to back roll all the interior they paint which makes your paint job look great for years to come. 

We offer a 5-year warranty on every interior job we do. We stand behind our work and provide a total commitment to all details.