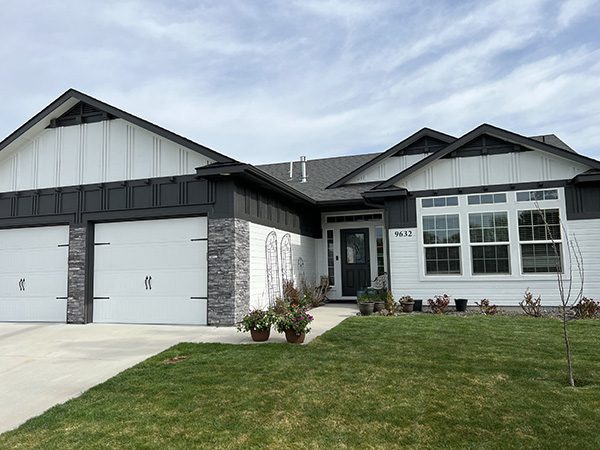 Whether you just moved here or you've been living in Kuna for years, you may be looking for Kuna painters to transform your home. With decades of experience painting houses, we know what we're doing. In fact, we're so confident in the quality of the work that we back our painting services with a guarantee. If you're interested in our Kuna house painting services, contact us for a free quote. 
House Painting Services We Provide
As Kuna painters, we provide a number of house painting services. Sure, we offer interior and exterior painting–that's to be expected–but our Kuna painters offer a number of other Kuna painting services. Here are just some of the painting services we offer:
Exterior painting

Deck painting and staining

Dry rot repair

Baseboard painting

And more!
Interior Painting
The color of your interior can have a big impact on your psyche. Blues are calming, yellows are energizing, and greens are peaceful. On the other hand, certain colors can have a negative impact on your mood. The last thing you want is an interior that makes you feel sad. Changing the color of your rooms can change the way you feel in your home. If your house is in need of an update, our Kuna painters can help you transform your space. We offer color consultations to help you pick the perfect shades to make your house a home. And once you know what you want, we'll prep the space–whether it's one room or the whole interior–and do the job right so that it will last for years.
Whether you need a single room or your whole house painted, we paint more than just your interior walls. Our interior painting services include:
Walls and ceilings

Doors and windows

Baseboard, trim, chair rail, and crown molding

Wainscotting and paneling

Shelving and cabinets
About Kuna, Idaho
Located 18 miles southwest of Boise, Kuna, Idaho has a population of about 24,000 people. It was once known as the "hidden gem" of the Treasure Valley, but with the significant growth of the past decade, Kuna is no longer hidden. Kuna offers the best of small-town life, with almost no traffic and beautiful pastoral views, while being close enough to Boise and Meridian to commute for work and play. 
Most homes in Kuna were built between 1990 and 2008, with many more homes under construction to accommodate growing demand. Home styles in Kuna come in a diverse range–such as traditional, modern, and contemporary. However, modern farmhouses and craftsman-style homes are gaining popularity in the area. Most homes in Kuna gravitate towards neutral, desaturated, and earthy colors. As with other cities in the Treasure Valley, Kuna has mild winters and hot summers. With an average of 208 sunny days, exterior paint tends to fade from UV exposure. Whether you're looking to update a faded exterior or go for a more modern look, our Kuna painting contractors have the experience and expertise you're looking for to do the job right.
Why Choose Our Kuna Painting Contractors
Our Kuna painting contractors have been in the business for decades, helping the residents of Kuna with exterior painting, interior painting, and cabinet painting. With just a bit of paint, we can transform your home too. 
A good paint job requires good prep work. As your Kuna house painters, we'll take the hassle out of painting your home. Whether that's moving and covering furniture, taping off corners, or laying down plastic, our Kuna painting contractors take care of all the prep so you don't have to worry.  
As a family-owned business, we know that it takes hard work and good customer service to stay in business. We treat every job like it's for a family member, going the extra mile to ensure perfection, sharp lines, and attention to detail. We even back-roll on both exterior and interior jobs for increased durability. Our team will communicate with you every step of the process to keep you updated from consultation to the final stage of the job. We're proud of the work we do and will do everything we can to make sure you're happy.