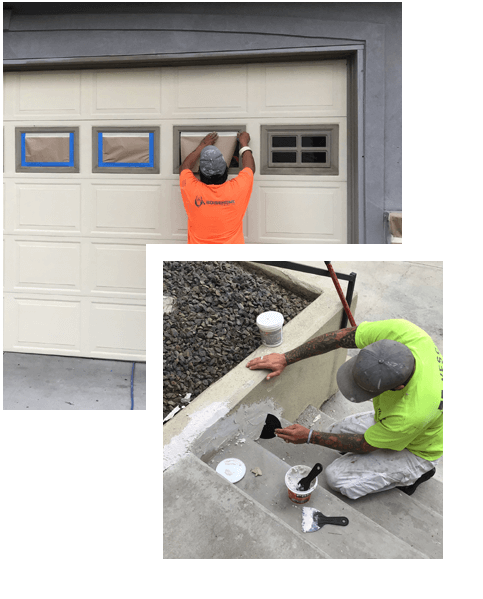 We understand the value of what it means every time someone chooses a Boise painting contractor. You don't become the best house painters in Boise by cutting corners. That's why we use only the highest-quality materials and work hard to ensure you're happy once the project is complete. We provide our painting and epoxy services to everyone in and around Boise.
When it comes to choosing professional house painters in Boise, we know you have a lot of choices. But we also know you want the best professional painters at a great price. At Boise Home Painting, we understand professional quality and attention to detail and that makes us some of the best professional house painters in Boise and the entire surrounding area.
Whether you need professional Boise painting contractors to make your kitchen cabinets look new, to paint your house's interior walls, exterior walls, garage floor, fence, or deck, we can make it look just the way you want. Contact us today to get a free quote to see what we can do for you!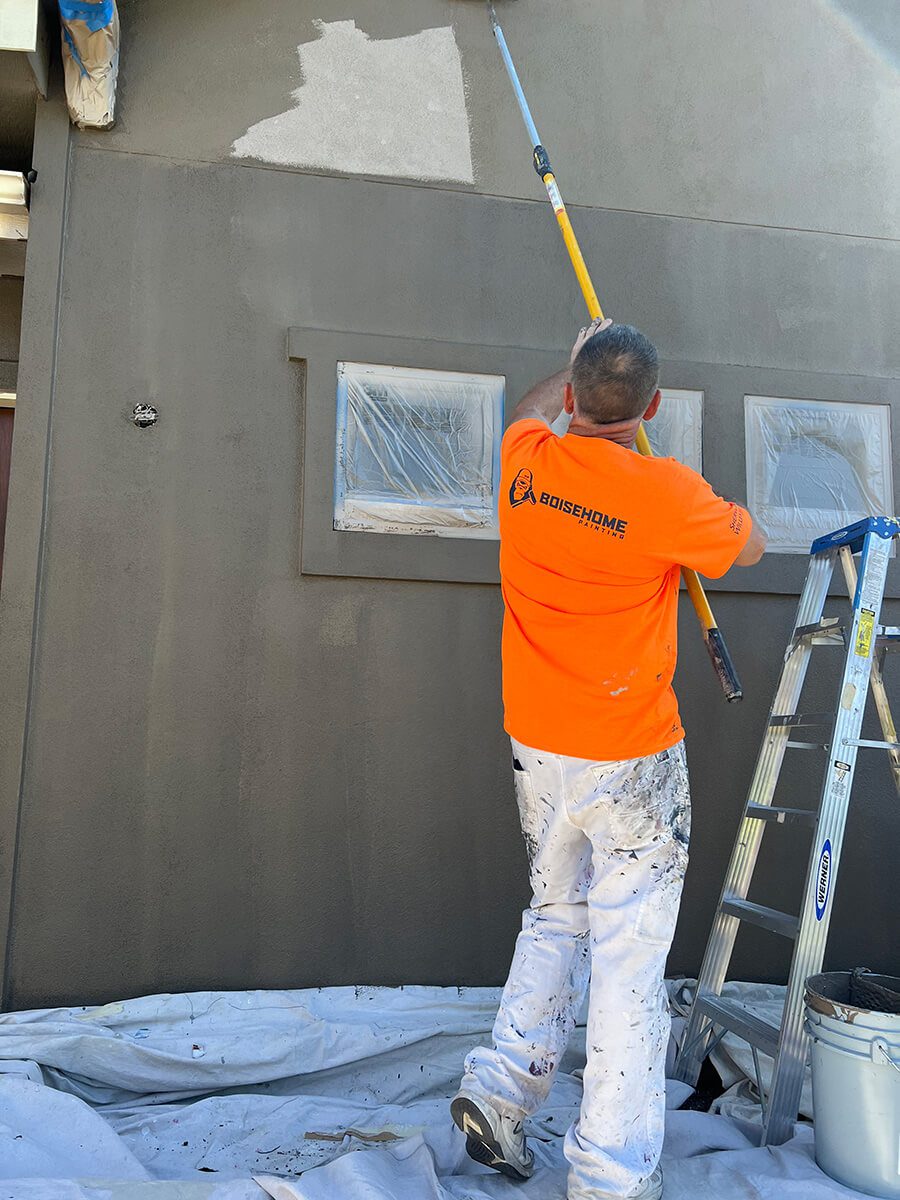 The business card Chris Jordan, the owner of Boise Home Painting, gave us when he provided his estimate for painting the exterior of our house promised quality and I'm pleased to have the opportunity to say his crew certainly delivered on that promise. T.J. kept us well informed throughout the entire process and Henry and Josh demonstrated a well-earned pride in their work, patience and ready willingness to respond to our requests, and were a pleasure to work with. We are totally satisfied with the end result and would recommend Boise Home Painting to anyone in the market for a quality paint job by skilled and reliable, quality people.
George
The team at Boise Home Painting were awesome. The price, the walk-throughs, the timeliness, and the product. We had the exterior of the home painted and they worked hard, and paid attention to every detail. Really happy with their work!
Joey B
I could not be more pleased with the job that was preformed on my house. Chris gave me a fair price, and everything he promised was done. TJ was very good about keeping me informed on what the schedule looked like. The painters Josh and Henry were very professional and paid attention to every detail. I highly recommend Boise Home painting for your painting needs.
Deland Harris
Hiring strangers to come in and do work inside the home comes with a level of anxiety and stress.  This was a good experience.  What began as just a couple of rooms soon became the entire inside of a 4500 square foot home in Eagle.  Chris and TJ were always available for questions and always made time to come out and discuss the job with me throughout the duration of the project.  They were always punctual, friendly and professional and both very personable.  Their bid was more than fair for the amount of work they did.  The people they hired to do the actual labor were very good and trustworthy.  There was a lot of detail work throughout the house and they did an amazing job.  I would highly recommend this company to anyone looking for painting work in the Treasure Valley.
Cara M.
They were able to start right away (big plus). I was expecting furniture to be delivered soon. Very happy with the work. I picked a color in one room I wasn't happy with after it was done (I couldn't be there at the time) and Chris went to Sherwin Williams with me and helped me get just what I had in mind. Eddie repainted it beautifully.
Joy Jones
The owner, Chris was totally professional and honest. His price was fair for the first class paint and workmanship.
James Scott
Boise Home Painting saved me when I put my house on the market to sell! Chris the owner came out and walked me through the entire process personally and even worked with my realtor so that I could get my house on the market in a timely fashion. With the new quality paint on the exterior of my home I was able to add thousands onto the sale price of my house. Chris was very responsive and available when I had any questions, I was really impressed with his painters and his attention to detail, I am going to use him to paint my new house next month!
Kim Etch
Boise Painting Contractor Services
As Boise painting contractors, we offer a whole host of house painting services to people in the Boise area. Here's a short list of services we offer:
Interior House Painting
Baseboard Painting
Commercial Interior & Exterior Painting
And More!
We have a 5-star rating on Google and we plan to keep it that way. That means we'll go the extra mile to make sure you're happy with the painting service we provide you. You won't find Boise painting contractors that will work harder to ensure you're happy with your new paint job. To let you know how hard we work to make your home or office look great, we warranty all our work. Plus, we serve virtually the entire Treasure Valley! Whether you live in Boise, Meridian, Kuna, Caldwell, Eagle, Nampa, or somewhere else nearby, we'll come paint your house.
What Makes Our House Painting in Boise Idaho So Great?
There are a lot of important factors for you to consider when you're hiring Boise painting contractors. For starters, are they open year-round? Are they EPA Led-Safe Certified? Do they have experience in painting houses around the Treasure Valley? We have all those things and we're proud of it. Plus, we'll give you a free house painting estimate!
What's the Next Step in the Boise House Painting Process?
Next, we recommend getting a free estimate! You can schedule a time that's convenient for you for one of our experts to come to your home. One of our Boise painting contractors will come to your property, inspect it, and give you free a written quote. You're more than welcome to hire us for your house painting needs or continue looking for a Boise house painting company.
If you've decided to hire us for your home painting needs, then we'll come up with a blueprint for your paint job. This will include all of the needed details including the colors, preparation, cleanup, products, and anything else needed for your paint job.
Before our Boise painting contractors actually start your paint job, we'll go over the order with you. Why do we do this? Because we want to make sure everything is as accurate as possible. Plus, we want to answer your questions and put your mind at ease.
Once we're done painting your house, we'll clean everything up and make sure everything looks great. Our Boise painting contractors may not be boy scouts but we do believe in leaving an area better than we found it. Our clean-up is thorough and we think you'll be more than satisfied with it.
Enjoy your newly painted home! We stand by our work because we do everything we can to make it look as wonderful as possible. It's because of our hard work and attention to detail that we include a warranty on all of our work as well.
Who We Are
Boise Home Painting is a company made up of Boise painting contractors who have more than 10 years of experience. Our painters know that a fresh coat of paint can completely change the way your house looks. But it's critical your painting company does it right and at a good price. That's why our painters are meticulous. We do everything we can to be five-star painters. We strongly believe in doing high-quality work at a fair price. Whatever your house painting needs, our Boise painting contractors can handle it! We're located near downtown Boise, have lots of relationships with local Boise businesses, and are anxious to help you!
Free Estimates!
We provide free estimates to anyone in the Boise area that requests one. A lot of people ask if we can provide an online estimate. Unfortunately, not accurately. We need to see your property in person. Knowing the square footage is useful but we need to see the layout of your home. How many floors are there, how high are the ceilings, how many walls are there, is there a basement, etc. Whether it's interior or exterior painting, our professional painters need to actually see your property in order to give you an accurate painting cost. Contact our Boise house painters to get your free estimate!