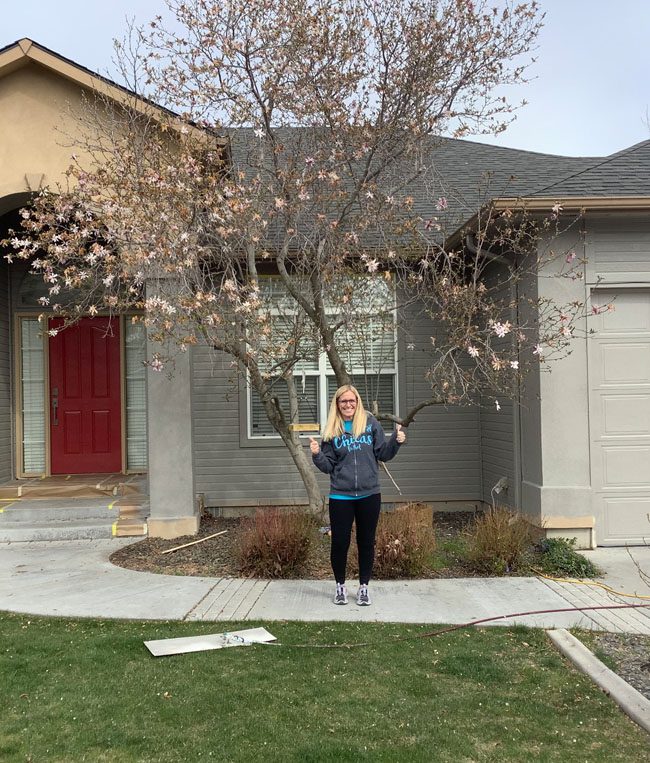 If you live in Meridian, Idaho and you need some painting contractors, you've come to the right place! When it comes to Meridian house painting, you need painters who know what they're doing. Our painters have decades of experience and have been painting houses in Meridian for years. We're so confident that our paint job will last that we back up our interior and exterior house painting services. It doesn't matter if the exterior of your house or the interior needs to be painted, our painting contractors will give you a free quote. So, if your house paint has started to fade, look run down, or you just want to update to a more current color, we can make it look just the way you want!
Expert Meridian House Painting Contractors
Nobody wants to get their house painted only to have it look "fine" or "okay." You want your house to look terrific and brand new! After all, getting your house repainted isn't cheap. Whether there's a specific house in the neighborhood you want your house to look like or one that just got painted, we can make it look just as good or better! There's a good chance our Meridian painting contractors painted that house anyway!
Painting is in our blood! The owner and founder of our company, Chris Jordan, is the son of a painter. In fact, his grandparents are also painters. Our painting roots go back three generations! As a result, we work hard to be the best painting contractors in Meridian.
We treat every job like we're doing it for our mother. As a family-owned business, we know the only way to stay in business is to treat our customers the right way. That means we're perfectionists at Meridian house painting and we pay attention to every detail. We'll do all of the preparation and cleanup work for your paint job. We'll tape off all the corners and edges, and cover everything in plastic if necessary. If it's interior painting, we'll move whatever furniture needs to be moved and cover it in plastic as well. We'll do whatever we can to make your experience with our painting contractors as great as possible.
Meridian House Painting Contractor Services We Provide
We perform all kinds of Meridian house painting services. Of course, we cover the basics of interior and exterior house painting in Meridian, but we do much more than that. Here are a few of the painting services we provide:
Interior Painting
Deck Painting
Dry Rot Repair
Baseboard Painting
Commercial Painting (this isn't house painting but we do it for businesses in Meridian)
And more!
About Meridian Idaho
Meridian, Idaho is a great place to live, work, and raise a family. Everyone who lives there knows how great of a place it is. Being part of the banana belt of the pacific northwest helps because it prevents the winters from being too harsh. Snow may fall but it doesn't usually last long. As mild as the winters can be the summers can be incredibly hot. But even the summers can get pretty cool at night and require a jacket.
Painting houses in Meridian, Idaho is different than painting houses in Florida or Massachusetts. Meridian, and Idaho in general, is such a sunny city that it can cause your exterior house paint to fade faster. This is especially true if your painting contractors don't use back roll in their painting process. We live here and paint here, so we know the right paints to use to make sure your home looks great for years and years. We buy all of our paint at the local Sherwin Williams.